NEWS
Press & Publications
Due to confidentiality restrictions we can not report everything
but below please find some published developments.
EuropeanBoostUp! Competition – Norbert Frömmer as a member of the Accelerate Jury
The European Institute of Innovation and Technology (EIT) Manufacturing supports science and research, as well as education. The goal of EIT Manufacturing is to support the creation of 1000 start-ups and will invest more than EUR 325 millions of private-public-partnership funds in the formation of EIT Ventures until 2030.
One of the initiatives to support new business ideas and innovations is the European BoostUp! Competition. The regional final held in Vienna at the end of October was organised by the EIT Manufacturing East which is located there. Start-ups and SMEs from all over Austria and many other Eastern European countries presented their projects in three different categories: Create, Accelerate and Transform.
LRS was also participating – as an experienced expert Norbert Frömmer was asked to join the Accelerate Jury. Together with other top-class managers from the Austrian economy he had the exciting but challenging task to choose the regional winners. The selected business models, innovations and ideas will be introduced to the european audience at the grand european final in Brussels, next to the best projects from the South, North, Central and West regions of Europe.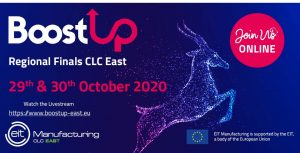 Quantum Capital Partners acquires Stadlbauer group
In July 2018, LRS was commissioned by the Stadlbauer family to take over the management with the aim to stabilize and realign the corporate group, that had suffered of a failed generation transition and the disruptions in the international toy market. After completing this process, the owners decided to sell to Quantum Capital Partners.
This May, the Salzburg based Stadlbauer group announced the acquisition by Quantum Capital Partners. The closing of the transaction is subject to the approval of the antitrust authority. Dr. Norbert Frömmer will stay Managing Director of the Stadlbauer Group. Andreas Stadlbauer will support the new holding as a member of the advisory board. The acquisition is expected to be completed in the second quarter of 2019 following the completion of all closing requirements.
Halliburton acquires Smart Fibers
Smart Fibers Ltd. was taken over by Halliburton Global Holdings Ltd., one of the largest players in the oilfield service market . LRS has been a member of the four-headed Boards of Directors since 2015. LRS initially stabilized the company economically, realigned it strategically and was then looking for the best option for the stake holders (shareholders, company, employees) of Smart Fibers Ltd.. The sale of 100% of the company took place in December 2018.